Hello | Hola | Namaste! Todays is my stop for the blog tour of the review of Arsenic and Adobo by Mia P. Manansala and hosted by Caffeine Book Tours. This book was so fun and the dialogues were hilarious and it kept me entertained thoroughly. I can not thank enough to Caffeine Book Tours for giving me this wonderful opportunity to read this book and be a part of this very amazing book tour! Also, I would like to thank the publishers and the Caffeine book tours for my free book copy in exchange for my participation in this tour.
You can also check out the full blog tour schedule here.
Title – Arsenic and Adobo
Author – Mia P. Manansala
Publisher – Berkeley
Publication date – May 4, 2021
Age group – Adult
Genres – Mystery/Thriller
Book Synopsis :
When Lila Macapagal moves back home to recover from a horrible breakup, her life seems to be following all the typical rom-com tropes. She's tasked with saving her Tita Rosie's failing restaurant, and she has to deal with a group of matchmaking aunties who shower her with love and judgment. But when a notoriously nasty food critic (who happens to be her ex-boyfriend) drops dead moments after a confrontation with Lila, her life quickly swerves from a Nora Ephron romp to an Agatha Christie case.
With the cops treating her like she's the one and only suspect, and the shady landlord looking to finally kick the Macapagal family out and resell the storefront, Lila's left with no choice but to conduct her own investigation. Armed with the nosy auntie network, her barista best bud, and her trusted Dachshund, Longanisa, Lila takes on this tasty, twisted case and soon finds her own neck on the chopping block…
On-page representation:
#POC – Filipino-American MC, Pakistani-Muslim American, Korean-American, Mexican-American, Japanese-American, Black American.
#LGBTQIAP+ – lesbian, bisexual, queer
Trigger and content warnings:
indication of evidence planting and police intimidation.
drug use
fatphobia
racism
domestic violence (implied, not on the page)
My views:
This was my first time reading a book from the cozy mystery genre. There were many fun elements in the book. There is also a love triangle going on between Amir (Lila's lawyer), Lila, and Jae (Lila's dentist) and it was very cute. I love Mia adding a few Filipino recipes at the end of the book and especially those of Ube Crinkles. The family dynamics between Lila with her family was great and the one with her mga ninang was so hilarious and fun! It is shown as a tight-knit family with a lot of food going on. I tell you those recipes are mouth-watering and sounded delicious, although I have never tried Filipino food myself yet.
I would say I relished the plot but the writing style could have a little better. In the beginning, the pace of the book was quite slow, by the time it picked the pace the story was about to end, and then it was like *woosh* over! Although, I have to say that the narration was engaging and funny, and humorous.
It was great learning about the Filipino culture and their background, their family scenarios, and the food importance in their tradition. There is fairly a large number of characters that are diverse and amicable but were a bit on the confusing side at times. Lila came out quite stubborn at times with a childlike attitude, which was annoying to me. But overall, her characterization was likable. We can also see, Lila's best friend Adeena is a proud American lesbian and her love interest is a bi Latina when it comes to queer representation in the book and it also includes BIPOC.
Thus, I would conclude by saying that it was a super-fun read and I got to explore a new genre. I can't wait for the next Manansala's book which will be the second installment in Tita Rosie's Kitchen.
Author Information: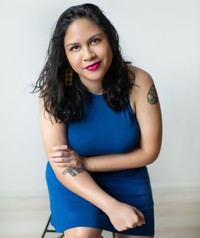 Mia P. Manansala is a writer from Chicago who loves books, baking and bad-ass women. She uses humor (and murder) to explore aspects of the Filipino diaspora, queerness, and her millennial love for the pop culture.
She is the winner of the 2018 Hugh Holton Award, the 2018 Eleanor Taylor Bland Crime Fiction Writers of Color Award, the 2017 William F. Deeck – Malice Domestic Grant for Unpublished Writers, and the 2016 Mystery Writers of America/Helen McCloy Scholarship. She's also a 2017 Pitch Wars alum and 2018-2020 mentor.
Some of my favorite quotes from the

Arsenic and Adobo

:
"There was the only one thing I knew would get me out of this funk. So, I hopped in the car and headed home. It was time to bake"
"Do great things. You hear me? Live the life Derek never could. The life I was always to afraid to live"
"I hate seeing someone unsatisfied with their food. It means they're going unnurtured. Unfed"
"I also know that when things go down and life is against me, my family will always have my back. We all take care of each other in our own way. Yours is the same. How many can say that and actually mean it?"
Have you read Arsenic and Adobo? It is on your TBR? Do you like reading Cozy Mysteries? Do you love books about food?